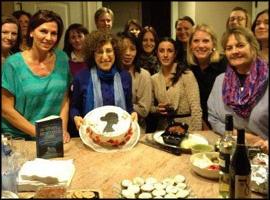 Host Rachel at Your Book Club or Reading Group
I'll be glad to schedule a 30-minute visit by speakerphone or Skype when your book club is reading one of my books, if my schedule permits. If your group meets in the northern Delaware, Philadelphia, or South Jersey regions, I will attempt to visit in person, if possible.

Please note that I rarely join book clubs during the day or on weekends. Also, I receive a great many requests and can only accommodate 10 groups a week.

The guidelines:

1) Be clear on all of these guidelines before you contact me.

2) Be in touch well in advance of your date so I can check my schedule. You can write me at rachel@rachelsimon.com.

3) Be sure your speakerphone works ahead of time, or, if we're doing Skype, that you know how to use it. If you're new to Skype, it's advisable to have a knowledgeable person on hand. (This person often takes the form of a teenage tech consultant.)

4) Be sure you have some vegetarian food available, if I'm visiting in person.

5) Be prompt.

6) Be sober...or at least clearheaded enough to engage in a meaningful conversation.

7) Be social. You are welcome to let your other friends know about my impending visit and then to post photos of our meeting on your favorite social media.

8) Be honest. I earn my living partially through public speaking. If your group is larger than 20 people, my time with you might fall into the category of an event, so you should contact Marc Goldman, who handles my speaking engagements, to discuss further. You can reach him at marc@damonbrooks.com or call 805-604-9017. Refer to the "Speaking Engagements" section of this website for more information.